Dear Shasta Families,
Thank you so much to all the families that helped make our first dance of the year a huge success! We also want to recognize our student leadership team who did a fantastic job organizing the event.
The second round of Expeditions wrapped up this week and we loved seeing all of our students pursuing their passions. From delicious cook-offs to field trips around the Bay Area, students completed a number of real-world projects both in and out of the classroom! We look forward to welcoming all of the Expeditions teachers back to campus for our third round of Expeditions March 19-March 29.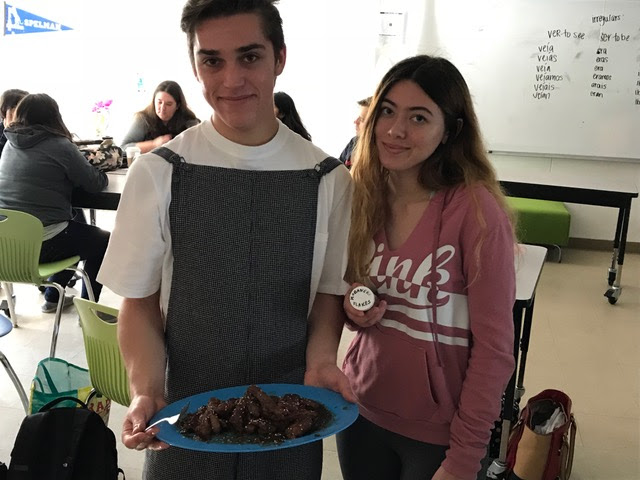 Core academic classes resume at 8:20 AM on Monday, January 22nd. Thank you in advance for supporting all students in arriving on-time to school.
We look forward to a great week!
Wren and Ava
To view more images from Summit Shasta please visit us on Facebook or follow us on Instagram at @SummitShastaOfficial.
UPCOMING EVENTS- PLEASE MARK YOUR CALENDARS
1/22: Regular classes resume
1/25: Shadow Day #8
2/8: Shadow Day #9
2/13: SPOT Meeting #6
**For a full list of upcoming events, please review our events events calendar.**
SPECIAL ANNOUNCEMENTS
Shasta Parent Organizing Team (SPOT) Meetings
At the SPOT Meeting this week, families had an opportunity to learn more about our school funding and the LCAP process. LCAP provides parents, students, and teachers an opportunity to provide feedback on school priorities and action plans. If you are interested in providing more feedback on Shasta's LCAP process, please join us for the SPOT meeting at 6 PM on March 13th.
Please save the date for the next SPOT meeting at 6 PM on February 13th. Vivienne Pustell, the Director of Digital Safety, will be present to lead a presentation on technology in our schools. The presentation will focus on some of the main challenges facing students in their digitally connected lives (relating to things like social media, screen time, FOMO, etc), cover the basics of privacy and consent for students, discuss pros and cons of the digital life and some potential approaches for parents to take in moderating and discussing it with their kids. Vivienne will also share what Summit is working on in relationship to digital safety and culture, as well as share resources that parents can draw on. We hope you can join us!
Yearbook Orders
Yearbooks are now ready to pre-order. Click here to pre-order your own 2017-2018 yearbook!
Progress Reports Mailed Home: Week of January 29th
The week of January 29th, we will be mailing home progress reports to all families. These reports will give you a snapshot of your student's current progress at the midway point in the year. Please take time to review these progress reports with your student and reach out to your student's mentor if you have any questions.
Advanced Human Rights Class – Documentary GoFundMe!
Shasta's Advanced Human Rights class is creating a documentary about human trafficking as part of their work in Expeditions this year. In order to edit and produce a high-quality documentary that can be shared widely, the class is raising money. Your donations will go to the costs of creating this documentary (filming, production, etc.). Any excess money will go to local foundations working to provide relief for victims. Please help us make a difference by donating and helping us spread awareness. If you are interested in learning more about and supporting their work, you can do so on this page.
COLLEGE CORNER
Class of 2018: College Application and Acceptances Updates
As of Friday, January 19th, 100% of the senior class has applied to at least one four year college or university! In addition, we are very excited to share that fifteen seniors have already been accepted into the following colleges and universities:
Arizona State University
Butler University
CSU Stanislaus
Evergreen State University
Iowa State University
Hampshire College
Humboldt State
Mills College
New Mexico Highlands University
Newbury College
Notre Dame de Namur
Portland State University
Princeton University
San Diego State University
San Francisco State University
Sonoma State University,
University of Puget Sound
Class of 2018: College Application and Acceptances Updates
Thanks to all the families who joined us for our testing and financial aid evening this week. If you missed the event, please find the PPT here. Reach out to Ava Petrash (apetrash@summitps.org) if you have more questions.
SHASTA ATHLETICS
Spring Sports Registration Begins
If anyone is interested in playing a spring sport at Shasta, they MUST use this link (https://goo.gl/forms/p4EZnjvffZiVQPZy2) to register prior to beginning the sport.  Spring sports start on Monday, January 29. All athletes MUST have a physical from a doctor prior to the start of the spring season.  Registration will close on Monday 1/29 at 9 AM.
Winter Sports Competition Begins
Winter sports are in full spring with games for soccer and basketball every single week! All of our schedules, rosters & info will be hosted on MaxPreps. Our school page is:
http://www.maxpreps.com/high-schools/summit-shasta-black-bears-(daly-city,ca)/home.htm or just click here!
If you have any questions, please contact our Athletic Director, Michael Lofberg, at mlofberg@summitps.org.