Dear Shasta Families,
We had a wonderful first week back from February break. Students jumped back into their classes, the boys' baseball team had their first game, and we ended the week with a wonderful First Friday celebration. Congratulations to the following students who were recognized as the March Black Bear of the Month Award Winners for their excellence in the Summit Shasta core characteristics of compassion, courage, curiosity, integrity, respect, and responsibility: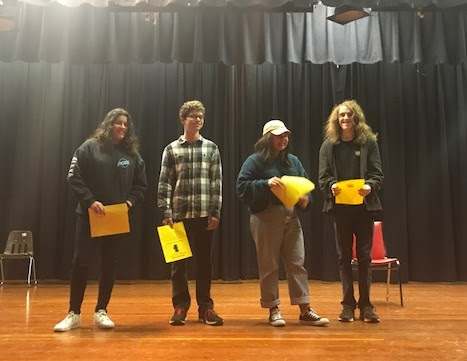 12th Grade: Robby Eberhardt and Carynna Sera
11th Grade: Mikaela Consunji and JC Santamaria
10th Grade: Samantha Matamoros and Kyle Weber
9th Grade: Alexa Huaman and Joseph Hernandez
Thanks for a great week!
Best,
Ava
To view more images from Summit Shasta please visit us on Facebook or follow us on Instagram at @SummitShastaOfficial.
UPCOMING EVENTS- PLEASE MARK YOUR CALENDARS
3/10: March SAT Test Date
3/13: SPOT Meeting – LCAP goal review
3/13: Recruitment Open House #8
3/14: Deadline for 9th Grade Applications for 2018-2019
3/16: NO SCHOOL – Spring PLP Meetings
3/16: 2018-2019 9th Grade Lottery
**For a full list of upcoming events, please review our events events calendar.**
SPECIAL ANNOUNCEMENTS
School Safety
Our hearts go out to the school community in Parkland, Florida that was victimized by gun violence earlier this month. Shasta's administrative team has been meeting to review safety needs and processes and we have coordinated, campus-wide emergency response protocols. In the aftermath of the tragedy in Florida, we are reviewing our protocols to ensure our safety plan is comprehensive and well-communicated. We will be holding an additional lockdown drill in the coming week to ensure all students and faculty are knowledgeable about our safety practices.
Study Trips – We Need Drivers!
Every year, our students look forward to the Study Trips that give them an opportunity explore colleges around California, build community with their classmates, and have fun! These trips are made possible by parent drivers who donate their time to drive students. We are still looking for drivers for our 9th, 10th, and 11th grade trips. If you are able to drive, please reach out to your grade level teacher and parent leads, listed below. If we cannot secure enough drivers, we may have to cancel or adjust the trips.
Sophomore Multicultural Potluck Donation Request
Sophomore Leadership will be holding our 2nd annual Multicultural Potluck on Friday, March 9th, 2018! We are looking for donations of delicious foods from different cultures all around the world. If you are interested in donating food, please click and complete this google form. More specific information about the event and food requirements are described in the Google forms above. Thank you very much! If there are any questions, please email Grace Jiang at grjiang.sh@mysummitps.org or Serena Spada at sespada.sh@mysummitps.org.
Collecting Donations for Pat's Closet
The coat drive for Pat's Closet that we conducted in December was such a success that we would like to do a spring drive! However, instead of coats, this time the urgent need is toiletries. Here is what they are looking for:
Shampoo, soap, deodorant, toothpaste, toothbrushes, floss, moist towelettes, lotions, travel kleenex, etc.
Hotel sizes appreciated as well.
This donation will go to the homeless and those in need of emergency housing.
There will be a box available for the donations in the Shasta office from Monday March 12th through Thursday March 15th.
Please contact Lucricia Delgado at lucriciadelgado@gmail.com with any questions. Thank you for helping Summit Shasta reach out to our local community!
Service Club Volunteers at the SF Marin Food Bank
Over February break, members of the Service Club volunteered at the SF Marin Food Bank. They packed canned and boxed goods that will be used to ensure residents of the Bay Area do not go hungry this spring. We are incredibly impressed by their dedication to volunteer service in our community!
 
COLLEGE CORNER
Class of 2018: College Application and Acceptances Updates
As of Friday, February 9th, 100% of the senior class has applied to at least one four year college or university! In addition, we are very excited to share that fifteen seniors have already been accepted into the following colleges and universities:
Arizona State University
Butler University
CSU Stanislaus
Evergreen State University
Iowa State University
Hampshire College
Humboldt State
Mills College
New Mexico Highlands University
Newbury College
Notre Dame de Namur
Portland State University
Princeton University
San Diego State University
San Francisco State University
Sonoma State University
University of Minnesota
University of Puget Sound
SHASTA ATHLETICS
PSAL All-League Selections
We are incredibly excited to announce that the following Shasta student-athletes have been named to their PSAL All-League teams! Congrats to all of them for their hard work during the winter sports season!
Boys Basketball: 2nd Team – Jake Bubakar & Nic Radoc
Girls Basketball: 1st Team – Coral Yu & Rebekah Estay, Honorable Mention – Mikaela Consunji
Boys Soccer: 2nd Team – Luke Conti & Ricky Oseguera, Honorable Mention – Yaxche Onofre
Girls Soccer: 1st Team – Dianni Flores, 2nd Team – Julia Kuschner & Lucy Rush
Sports Information
Baseball and softball have started! All of our schedules, rosters & info will be hosted on MaxPreps. Our school page is:
http://www.maxpreps.com/high-schools/summit-shasta-black-bears-(daly-city,ca)/home.htm or just click here!
If you have any questions, please contact our Athletic Director, Michael Lofberg, at mlofberg@summitps.org.