Dear Shasta Families,
This week, we want to highlight the amazing work that our Service Club is doing here at Shasta and in the broader community. Service Club was founded to give students an opportunity to engage in community service both on and off campus. "The goal of Service Club," says junior Sabrina Dillig "is to give everyone an opportunity to give back to their community in any way that they want to. It can be small things, like helping the school, or something bigger, such as going out into the greater Bay Area community and serving at food banks or other organizations."
Next week, Service Club is sponsoring Penny Wars to raise money for Foundation Fighting Blindness. This organization raises money to provide prevention, treatments, and cures for people affected by blindness. Students and families can add pennies to grade level jars and whichever grade level has the most pennies at the end of next week will be declared the winner! 25% of the proceeds will be donated to the winning grade's class fund and the remaining money raised will go directly to Foundation Fighting Blindness.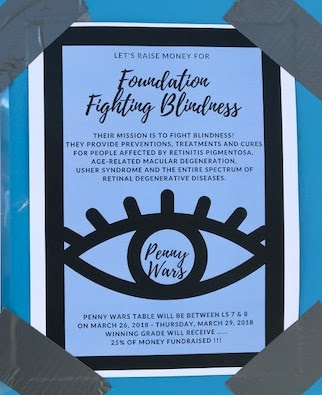 "I joined Service Club because I wanted to be more involved in my community. I've done it in the past when it was required but I wanted to push myself to do community service without the requirement" says Sabrina. "I feel like it is a really good opportunity to get involved. We've served at the SF Food Bank, beach cleanups, and St. Anthony's Dining Hall. It is also a really good way to bond with my classmates."
We are so proud of the work that Service Club does to make our community better for everyone in it. Their work is such a great example of the ways in which Shasta students are working to meet our mission of preparing students to be thoughtful, contributing members of society. We look forward to seeing the good work that this group will continue to do!
Thanks for a great week!
Please visit Summit Shasta on Facebook and follow us on Instagram at @SummitShastaOfficial.
UPCOMING EVENTS- PLEASE MARK YOUR CALENDARS
3/19 – 3/29: Expeditions Round 3
3/30: NO SCHOOL – Cesar Chavez Day
4/2 – 4/3: ELPAC testing for select students
4/5 – 4/7: 9th – 11th Grade Study Trips
4/9 – 4/13 – Spring Break
**For a full list of upcoming events, please review our events calendar.**

SPECIAL ANNOUNCEMENTS
Please Take Our Parent Survey!
Please take our 2017-2018 Parent Survey today! Shasta believes in listening to your voice to better understand what is working for you and your child and where you feel there might be room for improvement. This year's survey should only take ten minutes of your time, but will greatly benefit our school. Your voice is incredibly important to our school, and we truly value your input and time.
Study Trips – We Need Drivers!
Every year, our students look forward to the Study Trips that give them an opportunity explore colleges around California, build community with their classmates, and have fun! These trips are made possible by parent drivers who donate their time to drive students. We are still looking for drivers for our 11th grade trip. (We now have enough drivers for 9th and 10th grade!) If you are able to drive, please reach out to your grade level teacher and parent leads, listed below. We are nearing the deadline for getting enough drivers and want to make sure these trips can happen!
Order Your Yearbook Now
Yearbooks are now ready to pre-order. Click here to pre-order your own 2017-2018 yearbook! The deadline for ordering a yearbook is April 11th!
Wilderness Camping Trip
The Wilderness Expeditions course is hoping to go on an overnight trip to Death Valley National Park this week and we've been unable to lock down a committed third chaperone within the parent community of our own class to make the trip happen. If you enjoy the outdoors and have a flexible schedule, consider joining us!
All of the students in the course have been planning and leading the class on custom adventures, and Death Valley was chosen as the overnight location as a few of our students had an interest in planning their custom adventure for that location. If you have never been, it is extremely beautiful, and next week will be a rare opportunity to enjoy it when it's 60 degrees and sunny, as opposed to the 80-100 degree weather you would often already be seeing by now!
We would be leaving Shasta on Tuesday morning, and returning by 5PM on Friday. You would be welcome to bring your Shasta student along with you provided we make a plan with their regular Expeditions teachers!
If you are interested in helping out, or have any questions about the trip, please contact Melissa Bernstein at 541-337-6354 or mbernstein@summitps.org. We would really like to be able to offer this experience to students, and are just 4 seats away from making this happen!

COLLEGE CORNER
Class of 2018: College Application and Acceptances Updates
As of Friday, March 9th, 100% of the senior class has applied to at least one four year college or university! In addition, we are very excited to share that fifteen seniors have already been accepted into the following colleges and universities:
Arizona State University
Butler University
CSU Stanislaus
Cal Poly San Luis Obispo
Colorado Christian University
Dominican University of California
Evergreen State University
Freed Hardeman University
Indiana University: Bloomington
Iowa State University
Hampshire College
Humboldt State
Loyola Marymount University
Mills College
New Mexico Highlands University
Newbury College
Notre Dame de Namur
Oregon State
Pace University
Portland State University
Princeton University
San Diego State University
San Francisco State University
San Jose State University
Sonoma State University
St. Mary's College of California
University of California – Davis
University of California – Irvine
University of California – Merced
University of California – Riverside
University of California – Santa Cruz
University of Minnesota
University of Montana
University of Puget Sound
Whittier College
Willamette University
SHASTA ATHLETICS
Sports Information
Baseball and softball have started! All of our schedules, rosters & info will be hosted on MaxPreps. Our school page is:
http://www.maxpreps.com/high-schools/summit-shasta-black-bears-(daly-city,ca)/home.htm or just click here!
If you have any questions, please contact our Athletic Director, Michael Lofberg, at mlofberg@summitps.org.