Dear Shasta Families,
Thank you so much to all of the families that donated food and drink to support our students on our first College Day of the year! I greatly appreciate your contributions and am incredibly proud of the focus and hard work all of our students put into these high-stakes tests. We also enjoyed hosting our first ever student college fair as highlighted in the pictures below.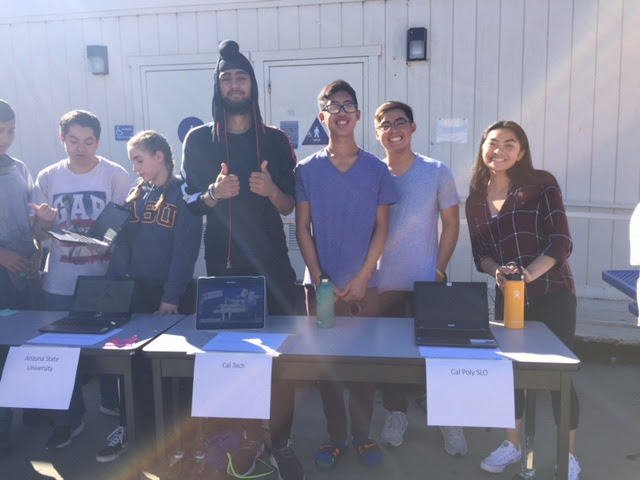 Finally, on a personal note, I am excited to share that my husband and I are expecting our first child in January! During my temporary absence starting in 2018, the Summit Shasta administrative team will be led by Ava Petrash, our amazing Assistant Director. Sergio Suarez and Delvy Escobar, our fabulous Operations Manager and Office Assistant, will continue to support Ava with school operations. In addition, Adelaide Giornelli will be joining the administrative team as our Dean of Students and Culture. Adelaide was a founding teacher at Summit Shasta in 2013 and spent four years working as the 9th grade English teacher at Shasta before serving this fall as the long-term maternity sub for World Studies I. Adelaide is a phenomenal teacher leader on the Summit Shasta team and she looks forward to supporting Ava, Sergio, and Delvy in leading the Shasta students, faculty, and parents through spring of 2018!
Please let me know if you have questions and we look forward to a great week!
Best,
Wren
UPCOMING EVENTS- PLEASE MARK YOUR CALENDARS
10/30-11/3: Spirit Week at Summit Shasta
11/2: Shasta Shadow Day #2
11/3: First Friday Celebration #3
11/3: Academic Celebration for the Class of 2021
11/7: Shasta Charter Renewal Hearing Part II at JUHSD Board Meeting
11/10: No School- Veteran's Day
11/14: SPOT Meeting #3 at 6 PM
11/14: Recruitment Open House #6
11/15: College Application Night for the Class of 2018
11/16: Shasta Shadow Day #3
11/17: Academic Celebration for the Class of 2019 and Class of 2020
11/20-11/24: No School- Thanksgiving Break
**For a full list of upcoming events, please review our events calendar.**
SPECIAL ANNOUNCEMENTS
This Week is Spirit Week at Summit Shasta!
Monday through Friday of this week, all students are encouraged to participate in Spirit Week! Participation each day will earn students spirit week points, culminating with our November First Friday celebration at the end of the week. For the spirit theme days, please see below!
Monday: Pajama Day
Tuesday: Halloween (school appropriate costumes are welcome!)
Wednesday: Twin Day
Thursday: Jersey Day
Friday: Class Color Day
Shasta SPOT Announcement
My name is Lucricia Delgado and I am this year's coordinator for the Shasta Activity Group (SAG). At our next SPOT meeting on November 14th we will begin putting together a list of upcoming events.  We are looking for ideas and volunteers to help!  Are you interested?
If you would like to be kept up to speed on volunteer opportunities and be added to the contact list, please send the following information:  Name; child's name, grade & Mentor; phone number and email address.  Please email the information to me at lucriciadelgado@gmail.com.
Have any questions about upcoming activities?  I'm here to help!  Thanks so much for helping to make Shasta such a great place for our kids.
2 Liter Bottles Needed For AP Environmental Science Project
This year in AP Environmental Science, seniors will build a small ecosystem to analyze the ways that organisms all rely on each other.  These ecosystems are built inside of 2-liter clear plastic bottles. We need about 200 by the end of October.  We also need 4 bags of potting soil, gravel, and 20 gallons of distilled water. The week that we build the ecocolumns, we will need live aquatic plants. Please email Mr. Maita (mmaita@summitps.org) for more information about types of aquatic plants if you are interested in providing them.  Thanks!
SHASTA ATHLETICS
Volleyball Team Celebrates Senior Night!
Congratulations to the Shasta Volleyball team who made the CCS playoffs! The girls won their final game of the season and honored senior Arianna Gomez at the senior night celebration. Good luck in the playoffs!
Winter Sports Try-Outs This Week!
During winter season, we will once again offer basketball and soccer for both boys & girls.  We will have a Varsity team for all sports, as well as JV & Freshman teams for boys basketball.
In order to participate in a winter sport, you MUST have completed this registration form and submited medical forms by Friday, October 27th, 2017.  Any student that is not registered using this form, or that has not completed the necessary medical forms, will NOT be allowed to tryout and participate.  If you need a copy of the medical forms, you can get one from the office during regular school hours.  A copy of the forms are also attached.
Registration link: https://goo.gl/forms/Lmfki9JmdgWz2f622
All winter sports are open for tryouts & practices on Monday, October 30, per CCS rules.  All of our Varsity teams are part of the PSAL, and will play a full schedule of league and non-league games.  JV & Freshman boys basketball will play a smaller scheduled based on available teams.  Schedules will be posted on MaxPreps by November 1.
If you have any questions, please contact our Athletic Director, Michael Lofberg, at mlofberg@summitps.org.
Thank you & Go Black Bears!
COLLEGE UPDATE
Class of 2018: College Application Night on Wednesday, November 15th
On Wednesday, November 15th, Summit Shasta is excited to host our second annual college application night! All members of the Class of 2018 will stay after school with the entire Summit Shasta faculty to draft personal statements, finalize applications, and hit submit on their college applications! To fuel this work, we are hoping some parents can donate food and drink. If you are able to donate, please fill out this Sign-Up Genuis. Thanks in advance for your support!
Thanks for Attending Cash for College Night!
Thanks to all the senior families who joined us for FAFSA night! We were thrilled to see so many members of the Class of 2018 there.
For families who couldn't make it, they can attend either of the upcoming Cash for College events in the area, which are open to any local high school students and their families:
October 30th, 5:30pm
Junipero Serra High School
451 West 20th Ave (San Mateo)
November 16th, 6pm
Jefferson High School
6996 Mission Street
COLLEGE UPDATE
Shasta Model United Nations
Last weekend, the Model UN club attended Henry Gunn. We would like to shout out our honorable delegates, Ben Alexander and Ethaniel Reyes. Great work to our entire team!