Dear Shasta Families,
This Friday, our spirit week concluded with our monthly "First Friday" celebration! Congratulations to the following students who were recognized as the November Black Bear of the Month Award Winners for their excellence in the Summit Shasta core characteristics of compassion, courage, curiosity, integrity, respect, and responsibility:
12th Grade: Paris Galarza and Favio Parreno Salazar
11th Grade:  Paola Guerrero and Yaxche Onofre
10th Grade: Gabriel Garfias and Kathryn Currier-Herzallah
9th Grade: Albert Chang-Yoo and Noelani Guadario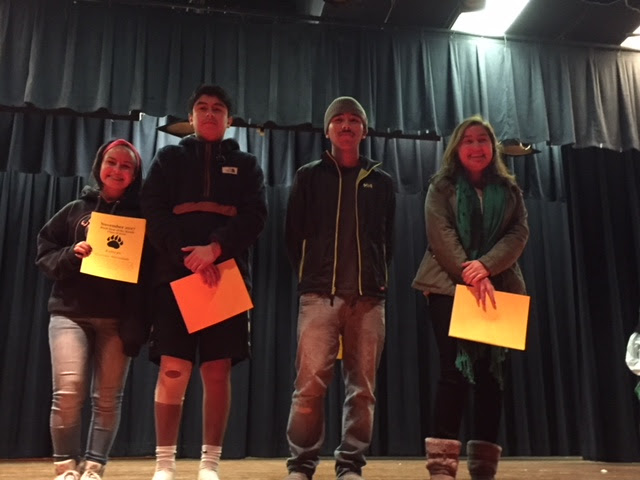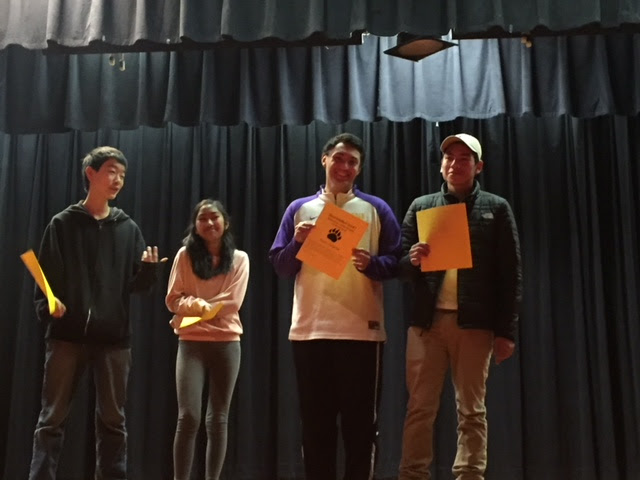 UPCOMING EVENTS- PLEASE MARK YOUR CALENDARS
11/7: Shasta Charter Renewal Hearing Part II at JUHSD Board Meeting
11/10: No School- Veteran's Day
11/14: SPOT Meeting #3 at 6 PM
11/14: Recruitment Open House #6
11/15: College Application Night for the Class of 2018
11/16: Shasta Shadow Day #3
11/17: Academic Celebration for the Class of 2019 and Class of 2020
11/20-11/24: No School- Thanksgiving Break
**For a full list of upcoming events, please review our events calendar.**
SPECIAL ANNOUNCEMENTS
Important Announcement Regarding Before and After School
Summit Shasta is open Monday-Thursday from 7:30 AM to 5:00 PM and on Friday from 7:30 AM to 4:00. In the past few weeks, we have received a number of complaints about Summit Shasta students spending time before and after school in the Jefferson Union High School district building. Because this building serves as a school and place of work for many of our community members, we ask that when Shasta students are at 699 Serramonte Blvd, they spend that time on the Summit Shasta campus. We want to continue our strong partnership with the JUHSD and appreciate parent and student support in ensuring students are not spending free time in the JUHSD building. Please reach out to Wren Maletsky at
wmaletsky@summitps.org
if you have additional questions.
JUHSD Board to Vote on Shasta's Charter Renewal 11/7!
MOn September 25, we submitted our petition to Jefferson Union High School District (JUHSD) for the renewal of Summit Shasta's charter. On October 17 the JUHSD Board of Directors held a Public Hearing on the Shasta renewal petition. You can view the minutes from that meeting HERE. Huge shout out to all the families who attended the meeting in support of Summit Shasta!! On November 7 at 7pm, the Board will vote on Shasta's charter renewal. Sign up to attend the JUHSD Board Meeting HERE. We appreciate your support!
Shasta SPOT Announcement
My name is Lucricia Delgado and I am this year's coordinator for the Shasta Activity Group (SAG). At our next SPOT meeting on November 14th we will begin putting together a list of upcoming events. We are looking for ideas and volunteers to help! Are you interested?
If you would like to be kept up to speed on volunteer opportunities and be added to the contact list, please send the following information: Name; child's name, grade & Mentor; phone number and email address. Please email the information to me at lucriciadelgado@gmail.com.
Have any questions about upcoming activities? I'm here to help! Thanks so much for helping to make Shasta such a great place for our kids.
SHASTA ATHLETICS
Summit Shasta Black Bears Girls Volleyball Team Makes It to Playoffs Earning the #6 Seed in CCS.
Congratulations to our Varsity Volleyball team on their great season! This is their first year in the PSAL-North League and they earned the #6 seed in the CCS Division V Playoff Tournament. The Black Bears will be playing the Sharks at the Quarter Finals on Saturday November 4th at 7 pm in the Borina Athletic Center at St Francis High School, SCP. The Black Bears finished the season FIRST in the PSAL-North League with an 18-5 overall record and are now looking forward to continuing their success in the CCS playoffs. The full CCS Division V bracket can be found on the CCS website at
http://cifccs.org/Playoffs/results/17-18/Volleyball_girls_D5_2017.pdf
Winter Sports Try-Outs This Week!
Winter sports have started! If you have any questions, please contact our Athletic Director, Michael Lofberg, at mlofberg@summitps.org.
Thank you & Go Black Bears!
COLLEGE UPDATE
Class of 2018: College Application Night on Wednesday, November 15th
On Wednesday, November 15th, Summit Shasta is excited to host our second annual college application night! All members of the Class of 2018 will stay after school with the entire Summit Shasta faculty to draft personal statements, finalize applications, and hit submit on their college applications! To fuel this work, we are hoping some parents can donate food and drink. If you are able to donate, please fill out this Sign-Up Genuis. Thanks in advance for your support!
SHASTA EXPEDITIONS UPDATE
Shasta Students Attend Human Trafficking Conference in San Francisco
Last weekend, the Model UN club attended Henry Gunn. We would Last Monday, students Parmvir Singh, Kaitlin Thach, Erica Colomer, Kai Smith, and Raeann Manalang (pictured below) as well as a few others from the Advanced Human Rights Expeditions course, attended the San Francisco Collaborative Against Human Trafficking Conference. This was a great opportunity that helped students connect with different organizations and sources in the Bay Area. The goal of the course is for students to educate their community and school about what human trafficking really is and how it can be prevented in the future. Thank you to Zoe Marinkovich and Sue Gleeson for helping organize attendance at the event.