Dear Shasta Families,
Next week, our Shasta Parent Organizing Team (SPOT) is launching a coat drive! We will be collecting new and gently used coats, sweat shirts and hoodies in boxes around campus from Monday, December 11 to Friday, December 15th for Pat's Closet of Daly City. Smaller children's sizes are very much in need from any younger siblings. Please have your student bring any donations to the office.
In addition, we would love to invite all parents to join us for our next SPOT meeting at 6 PM on Tuesday, December 12th! At the meeting, we will talk through increasing SPOT participation and continue work in committees related to senior events and special events. We hope you can join us!!!
Best,
Wren and Ava
UPCOMING EVENTS- PLEASE MARK YOUR CALENDARS
12/12: SPOT Meeting #4
12/14: Shadow Day #6
12/14: First Shasta Holiday Club Fair from 3:30-5:30
12/21: Last Day of School in 2017
12/22-1/7: Winter Break for Summit Shasta (School is Closed)
1/8: School Resumes, Start of Expeditions #2
**For a full list of upcoming events, please review our events calendar.**
SPECIAL ANNOUNCEMENTS
Shasta Holiday Club Fair: Thursday, December 14th from 3:30-5:30
This Thursday
, Shasta Student Government is excited to announce the first annual Holiday Fair in the Shasta courtyard. There will be booths with food, games, raffle prizes, and activities and all Shasta students and families are invited to attend! Funds raised by the raffle and booths will go to student dances, club activities, charities, and more! For more information, please click 
here
. In addition, if you have any lights or holiday decorations that Student Government could borrow to decorate the Holiday Fair, please contact 
atan.sh@mysummitps.org
 or 
clim.sh@mysummitps.org
.
Shasta Receives Award from Silicon Schools Fund
This week, Shasta was recognized as a School of Distinction from the Silicon Schools Fund! CEO of Silicon Schools Fund Brian Greenberg and Partner Tom Schwartz visited campus on Monday to recognize Shasta as a leader in personalized learning in the Bay Area. Silicon Schools has funded and supported the opening of several of our Summit Schools, including Summit Shasta, since 2012.
Class of 2019 Participates in Challenge Day
We were so proud of our juniors for participating in Challenge Day last Thursday! As part of the day, students and adults had to opportunity to find common ground, create peace, make amends, and inspire each other to be the change they want to see in the world! Since 1987, Challenge Day's award winning programs have reached 1.5 million youth and adults in 2500 schools and organizations around the world. Challenge Day is one of the most successful and longest running Social and Emotional Learning (SEL) programs in the world that builds compassion and ignites a movement of positive change in schools and communities. We felt incredibly lucky to be awarded a grant that enabled us to bring this program to our school!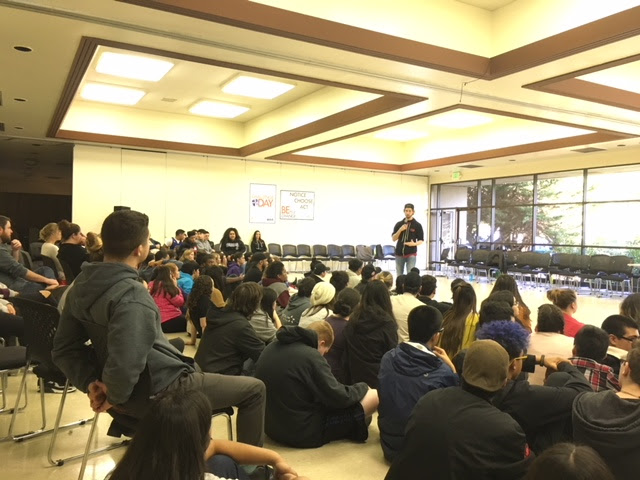 The XQ Student Voice Project is coming to Summit Shasta!
As you may know, last year Summit Shasta was named one of the 18 XQ Super Schools across the country. The XQ Super Schools are a set of diverse schools with one thing in common- we are all working to rethink high school and ensure that we are truly preparing our students for the careers of the future.  The Student Voice Project is an opportunity for students who attend the XQ schools to share their stories.  This is an opportunity to tell the world why you love Summit Shasta!  XQ wants to hear from you.  Learn more about the project here.  The submission deadline is 1/12/2018.  All students who submit an entry will receive some cool XQ swag.  If you have questions about the project, contact Leslie Eme- leme@summitps.org.
Shoe Boxes Needed for Physics
Physics teacher Andrew McCarty is looking to collect shoe boxes for his next Physics project! If you have any extra shoe boxes at home, please drop them off in the office.
Students Complete Multimedia Projects in Physics
Last week, students completed their Electromagnetic Waves project in Physics class. As part of the project, students were asked to create a multimedia resource on a technology that uses EM waves. Check out one of the incredible examples below!
COLLEGE CORNER
Student Spotlight
We are thrilled to announce that senior Melvin Byrd has been awarded the Posse Scholarship to attend University of Puget Sound in Washington! The scholarship covers Melvin's full tuition, room, and board at University of Puget Sound for the next four years and offers support and mentorship throughout Melvin's time in college. Congratulations Melvin!!
Class of 2018: College Application and Acceptances Updates
As of Friday, December 8th, 96% of the senior class has applied to at least one four year college or university! We are incredibly proud of all of our seniors and greatly appreciate the support of all the teachers, mentors, and family members during this stressful time. In addition, we are very excited to share that five seniors have already been accepted into the following colleges and universities:
Arizona State University
Iowa State University
Newbury College
Portland State University
Princeton University
SHASTA ATHLETICS
Shasta Varsity Boys Basketball Team Wins Big This Week
Congratulations to the Varsity Boys Basketball team who defeated Oceana in an exhilarating triple overtime win last Tuesday! All of the players competed with a ton of heart.
In addition, this weekend the team won the Justin Semana Basketball tournanment for the fourth year in a row! Go Black Bears!!