Dear Shasta Families,
At Shasta, an important aspect of our mission is that we strive to prepare all of our students for success in a four-year college. This past week, our 9th, 10th, and 11th graders took an important step towards reaching that mission: they visited colleges on our yearly study trips!
On Thursday, the 9th grade visited UC Berkeley and had a chance to eat at the dining hall and sit in on college lectures. On Friday, they braved the rain to journey to UC Santa Cruz and learn all about being a Banana Slug (UCSC's mascot).
The 10th Grade visited University of the Pacific and UC Davis on Thursday, where they met Shasta alumni and explored the differences between public and private colleges. On Friday, our visit to Sonoma State was cut short by the rain, but ended with sandwiches, fun, and free time in the Sonoma State Student Center.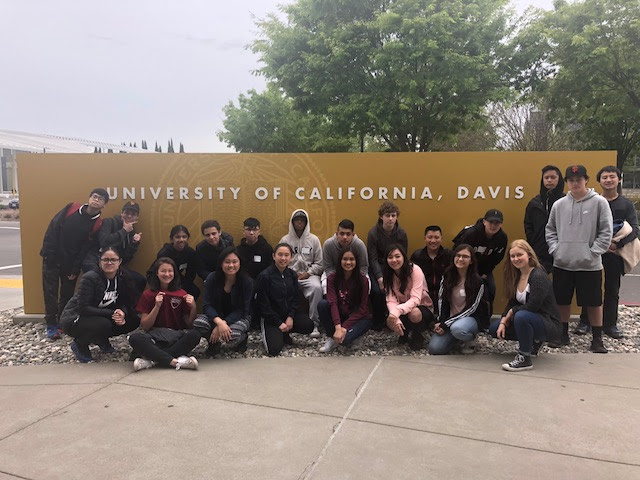 The 11th Grade visited CSU Sanislaus and UC Merced on Thursday. We had fantastic tours of each school and stayed overnight in San Luis Obispo. On Friday, we toured Cal Poly SLO and learned about their engineering major, a popular potential career for many of our students.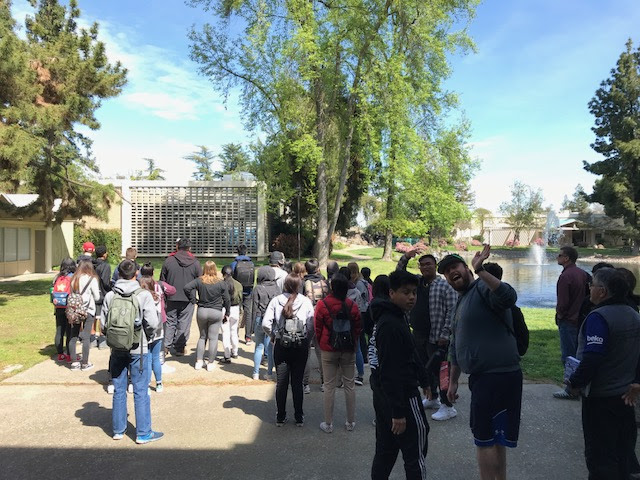 We want to give a GIGANTIC 'thank you' to all of the parents who helped make these trips possible by driving, organizing food, and supporting students while we were at these schools. We could not give our students these opportunities without you and we are so incredibly grateful. THANK YOU!!!!
As our students prepare for college, it is so important for them to have been able to set foot on a college campus and picture themselves there as students. This experiences help make college dreams become realities. Thank you to all of our community – parents, teachers, and students – for helping make these study trips happen!
We are on Spring Break next week and the Shasta Bulletin will return on April 22nd. We wish you all a relaxing and fun break and we'll see all students back on campus bright and early on the morning of April 16th.
Best,
Ava
Please visit Summit Shasta on Facebook and follow us on Instagram at @SummitShastaOfficial.
UPCOMING EVENTS- PLEASE MARK YOUR CALENDARS
4/9 – 4/13 – NO SCHOOL – Spring Break
4/17 – SPOT Meeting
4/17 – Recruitment Event #10
4/19 – Shadow Day
4/25 – Shasta Spring Fair from 3:30 – 6:00
4/26 – Shadow Day
4/26 – Graduation Committee Meeting at 6pm
**For a full list of upcoming events, please review our events calendar.**

SPECIAL ANNOUNCEMENTS
Please Take Our Parent Survey!
Currently, Shasta has 60% parent participation. Our goal is 70% and we are so close to reaching our goal! Please take 10 minutes to complete our short 2017-2018 Parent Survey and help us meet our goal. Shasta believes in listening to your voice to better understand what is working for you and your child and where you feel there might be room for improvement. This year's survey should only take ten minutes of your time, but will greatly benefit our school. Your voice is incredibly important to our school, and we truly value your input and time.
DEADLINE NEXT WEEK- Order Your Yearbook Now
Yearbooks are now ready to pre-order. Click here to pre-order your own 2017-2018 yearbook! The deadline for ordering a yearbook is April 11th!
Please Donate – Science Needs to be Seen and Experienced
From our Biology teacher, Mr. Lee:
Shasta Biology students have spent the year learning about the various aspects of life science from natural selection to cells to ecosystems. I would love to end the year with a fetal pig dissection to apply what they have been learning about into a very hands-on experience. As this is not directly a part of the curriculum, the materials need to be fund raised so students can have this experience that is a rite of passage for Biology students.
Please donate to our end of year dissection. Any donation goes a long way!
Dissecting Fetal Pigs: A Rite of Passage for Biology Students
Your support would mean so much to my students. In return, you'll get awesome photos of your gift in action!
Support Shasta, Ink Spell Books, and Play Trivia on April 28th
To celebrate Independent Bookstore Day on April 28th, Ink Spell Books (owned by a Shasta family!) will be hosting a a trivia contest benefiting local schools. Each school is allowed to enter up to 3 teams consisting of an elementary student, a tween/teen (6th to 12th grader) and an adult (over 18 year old). Winning team gets a $300 credit toward books for the school of their choice. 1st 3 teams to call Ink Spell and Sign up will be the representatives of their school (726-6571). Contest will begin at 4 p.m.
We will be having other activities all day long! Individual Trivia contests, scavenger hunt, face-painting and more!
Upcoming SPOT Meeting – Tuesday, April 17th
At the next SPOT meeting, we will provide an overview of the upcoming testing in April and May (AP Tests, CAASPP, MAP, PSAT, etc.) and our committees will have time to work together to plan for end-of-year activities. We will also discuss opportunities to parents to support at our upcoming New Family Welcome Brunch in May! Please join us!

COLLEGE CORNER
Class of 2018: College Application and Acceptances Updates
As of Thursday, March 29th, 100% of the senior class has applied to at least one four year college or university! In addition, we are very excited to share that fifteen seniors have already been accepted into the following colleges and universities:
Arizona State University
Butler University
CSU Stanislaus
Cal Poly San Luis Obispo
Colorado Christian University
Dominican University of California
Evergreen State University
Freed Hardeman University
Indiana University: Bloomington
Iowa State University
Hampshire College
Humboldt State
Loyola Marymount University
Mills College
New Mexico Highlands University
Newbury College
Notre Dame de Namur
Oregon State
Pace University
Portland State University
Princeton University
San Diego State University
San Francisco State University
San Jose State University
Sonoma State University
St. Mary's College of California
University of California – Davis
University of California – Irvine
University of California – Merced
University of California – Riverside
University of California – Santa Cruz
University of Minnesota
University of Montana
University of Puget Sound
Whittier College
Willamette University
SHASTA ATHLETICS
Sports Information
Baseball and softball are in full swing! All of our schedules, rosters & info will be hosted on MaxPreps. All of our schedules, rosters & info will be hosted on MaxPreps. Our school page is:
http://www.maxpreps.com/high-schools/summit-shasta-black-bears-(daly-city,ca)/home.htm or just click here!
If you have any questions, please contact our Athletic Director, Michael Lofberg, at mlofberg@summitps.org.